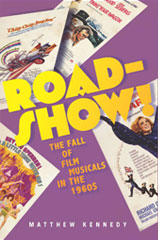 Roadshow! The Fall of Film Musicals in the 1960s
Oxford University Press, 2014
What happened to film musicals? In Roadshow! The Fall of Film Musicals in the 1960s, film historian Matthew Kennedy explores the steep decline of a beloved genre in an era fated to reinvent American art and culture. Roadshow! is the story of deeply talented but often misguided men and women who went in search of "the next Sound of Music" and glutted the American film market with a spate of appallingly expensive and financially ruinous musicals between 1967 and 1972: Camelot, Doctor Dolittle, Half a Sixpence, The Happiest Millionaire, Finian's Rainbow, Star!, Chitty Chitty Bang Bang, Sweet Charity, Paint Your Wagon, Goodbye, Mr. Chips, Hello, Dolly!, On a Clear Day You Can See Forever, Darling Lili, Song of Norway, The Great Waltz, and Man of La Mancha. The successes, including Oliver!, Funny Girl, Fiddler on the Roof, and Cabaret, could not mitigate the disaster. "It would be difficult not to come to the conclusion that the American film industry is coming apart," wrote Vincent Canby in The New York Times by way of noting the musicals' contribution to the Hollywood recession beginning in 1969. But Roadshow! is not another book making easy mock of movie flops. It rather offers an alternative view of a time too often reduced to love beads and sit-ins. Though routinely overlooked by cultural and film historians, these films matter in the story of America in the late 1960s and early 1970s. Told in swift chronology with interweaving narratives, Roadshow! tells of the studios' death grip on the film business, done in largely by expensive reserve-seat tickets to these ill timed, overproduced après garde musicals.
Roadshow! features an extraordinary cast, with many making their singular venture into musical territory: Richard Harris, Clint Eastwood, Peter O'Toole, Mary Tyler Moore, Rock Hudson, Shirley MacLaine, Vanessa Redgrave, Liza Minnelli, Fred Astaire, Greer Garson, Edward G. Robinson, Petula Clark, Geraldine Page, Barbra Streisand, Sidney Poitier, Julie Andrews, Sophia Loren, Walter Matthau, Carol Channing, Fred MacMurray, Omar Sharif, and Lee Marvin. Behind the camera were such notables as brash public relations man Arthur Jacobs, "The Smiling Cobra" and MGM corporate executioner James Aubrey, ambitious young production executive Robert Evans, and the father-son team of Darryl F. and Richard Zanuck. Directors included everyone from Golden Age names Gene Kelly and Vincente Minnelli, to non-musical veterans William Wyler and Carol Reed, to untried newcomers Francis Ford Coppola and Bob Fosse.
Roadshow! takes a sweeping view of a specific period in time, focusing on the day-to-day decisions of casting, production, marketing, and distribution. Of course musicals alone did not bankrupt Hollywood or lead to a wholesale change in what was made in the 1970s, but they conspicuously dominate the downward spiral. The very movies intended to save Hollywood nearly destroyed it. For that reason, Roadshow! corrects the shorthand that equates "American films of the late 1960s" with The Graduate, Bonnie and Clyde, and Easy Rider. It creates a new dialogue for a vital but troubled era in our culture. Equal parts "making of" film history, character studies, and critical analysis, Roadshow! is a cautionary tale of blind faith, artistic misjudgments, the cruelties of bad timing, changing tastes, and the occasional ray of sunlight in an industry where creativity and commerce live in uneasy harmony.
Praise for Roadshow!
The Washington Post review by Wendy Smith
"In Matthew Kennedy's zesty, detailed investigation … we see one of America's most vital art forms implode so badly that it all but dies out… Yet the book does not read as a funeral. Mr. Kennedy writes with a sense of humor, opening up the bizarre backstage of these events."
—Ethan Mordden, The Wall Street Journal
"Scintillating…. Kennedy engages readers throughout with his charming storytelling. The book is bustling with juicy tidbits…. Clearly the author loves film, and Kennedy conveys this enthusiasm to readers in this morality play of studios imploding from misguided excess." —John R. Killacky, The Gay & Lesbian Review Worldwide

"Kennedy's crash-obsessed procedural constructs a postmortem on Hollywood in the late Sixties.... [His] ruthless attention to disastrous detail recalls such movie autopsies as Final Cut (chronicling the Heaven's Gate fiasco) and The Devil's Candy (The Bonfire of the Vanities).... Roadshow! excavates this transitional Hollywood period at perhaps the right moment, when studios are again at a crisis point, sinking boatloads of green into productions of spectacular superfluousness." —Michael Koresky, Film Comment
"This hugely entertaining book tracks the decline of the Hollywood musical…. The author's research is impeccable, his story fascinating (Greed! Desperation! Ego! An utter failure to understand what audiences wanted!), and his writing lively…. The studios' relentless quest for more musical material and for the huge profits they hoped to reap essentially killed the big-budget musical. Kennedy sounds pretty upset about that, and, after reading this fine book, you will be, too." —David Pitt, Booklist (starred review)
"Much more than an entertaining foray into the rise and fall of a distinctly American art form, Roadshow! is an insightful and often discerning look at who we once were and how our values, priorities and tastes evolved during the turbulent decade of the 1960s. Indeed, social commentary is infused throughout the book in a way that brings the historical significance of musicals into sharp focus…. Roadshow! provides a complete course in the cultural transformation that took place during this revolutionary period in our nation's history." —Aaron W. Hughey, bgdailynews.com
"It's compulsively readable candy for movie buffs…. It is with considerable relish, flashes of dry wit, dead-on personal opinion, well-placed ironic asides, and impressively extensive research that Kennedy details the presumed aesthetic qualities and the production histories of all these movies." —John Karr, Bay Area Reporter
"Film historian Kennedy (Joan Blondell: A Life between Takes; Edmund Goulding's Dark Victory), in an erudite yet fetchingly entertaining style, traces the demise of ostentatious budget-busting Hollywood musicals … Kennedy juxtaposes the over-the-top theatricality and artifice inherent in these productions with the tumultuous societal and artistically discordant developments in the late Sixties … some of the numerous stories, quotes, and anecdotes he excavates from production records and archives are priceless. For all film collections." —Library Journal
"It's a hilarious, gossipy, but ultimately serious look at how the humongously successful musicals of 1964-65 caused Hollywood to lose its mind." —Jim Farber, New York Daily News
"Matthew Kennedy has written a colorful, entertaining and well-researched history of the Hollywood musical's greatest moment of crisis. This book helps to fill an important gap in our understanding of the postwar American film industry." —Sheldon Hall, author of Epics, Spectacles, and Blockbusters: A Hollywood History
"High of budget and misplaced of ambition, roadshow musicals define an arresting--and quite troubling--moment in the history of film. With meticulous research and a suitably critical eye, Matthew Kennedy details the plunge from feast to famine, from bounty to bankruptcy, from The Sound of Music to Song of Norway." —Richard Barrios, author of A Song in the Dark: The Birth of Musical Film
"Just get this book and blissfully immerse yourself in Kennedy's scrupulous research, which goes behind the scenes and magically makes the making of these indelible misses and occasional triumphs absolutely come alive." — David Noh, Gay City News (New York)
"Everyone who loves the films of Fred Astaire, Judy Garland, and Gene Kelly wonders what happened to movie musicals after the 1960s. Roadshow! is an extensively researched and engagingly written account of the demise of musical film during those decades of tumultuous cultural upheaval." —Philip Furia, co-author of The Songs of Hollywood

Order at Oxford University Press and Amazon