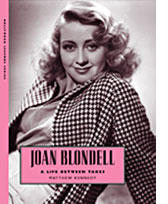 Joan Blondell: A Life between Takes
University Press of Mississippi, 2007
Joan Blondell: A Life between Takes is the first ever biography of the effervescent, scene stealing actress (1906-1979) who conquered motion pictures, vaudeville, Broadway, summer stock, television, radio, and publishing. Born the child of itinerant vaudevillians, she was on stage by age 3. Blessed with a casual sex appeal, distinctive cello voice, megawatt smile, luminous saucer eyes, and flawless timing, she came into widespread fame in Warner Bros. musicals and comedies of the 1930s, including Blonde Crazy, Gold Diggers of 1933, and Footlight Parade. Her gifts at drama were showcased in the family classic A Tree Grows in Brooklyn, the film noir Nightmare Alley, and the tearjerker The Blue Veil, for which she was Oscar nominated. Later she became a staple of television through countless guest spots and her Emmy nominated role in the 1960s series Here Come the Brides. In testimony to her underappreciated versatility, she finished her epic career with a dynamic turn in John Cassavetes' Opening Night and a cameo spot in the hit musical Grease. Frequent costar to James Cagney, Clark Gable, Edward G. Robinson, and Humphrey Bogart, friend to Judy Garland, Barbara Stanwyck, and Bette Davis, and wife to Dick Powell and Mike Todd, Joan Blondell was a true Golden Age Hollywood insider. By the time of her death from leukemia and rheumatoid arthritis, she had made nearly 100 films in a career that spanned over 50 years. Privately, she was unerringly loving and generous, while her life was touched by financial, medical, and emotional reversals. Comprehensively researched, expertly weaving the public and private, and featuring numerous rare photos and quotes by family, friends, and colleagues, Joan Blondell: A Life between Takes is printed under the aegis of UPM's acclaimed Hollywood Legends Series.
Praise for Joan Blondell: A Life between Takes
"Joan Blondell: A Life Between Takes is a first rate biography written with affection and respect. I found it a funny, touching, and accurate portrait of a survivor whose struggle against a lifetime of obstacles would have defeated all but the most resolute. The author has captured much of this struggle in vivid and entertaining detail. His research was both wide and deep and included details that even I did not know . . . . Thanks Matt." — Norman Powell, son of Joan Blondell
"Terrific . . . . Joan Blondell: A Life between Takes [is] one of the best actor bios ever . . . . Kennedy fully achieves the challenging task of making the reader feel as if we know the subject personally. It is a loving and inspiring tribute to a wonderful person and performer." —The National Board of Review
"I wouldn't have thought it possible for anyone to produce a genuinely personal book about this popular actress so many years after her death, but Matthew Kennedy has done just that . . . . he has written a warm, appreciative, and amazingly intimate biography . . . . Kennedy is a genuinely good writer who knows the language as well as he does vintage Hollywood movies. This book gets my highest recommendation." —Leonard Maltin's Movie Crazy
"dishy and well-researched" —The Village Voice
". . . author Matthew Kennedy offers the portrait of a woman whose strength in the face of struggle is almost unparalleled . . . . Kennedy's research, not only of Joan's early career but also her personal life, is second to none . . . it reads like a tale that could transition into a big screen drama . . . . Kennedy takes us through Joan's life like a tour guide. His approach is highly effective, in that he skillfully paves the way for surprises but never sways toward a mechanical commentary. The true sign of a good book is one that appeals to all audiences. There are a great number of fascinating twists between this 300-page biography, which could never be done justice in a regular review." —The Midnight Palace

"[Blondell's] life and work finally get their due . . . Kennedy's biography reminds us of Blondell's great success in the film industry and provides fascinating insight into the struggles faced by an actor who is never quite able to reach the top. Recommended for all academic and public libraries." —Library Journal
"Kennedy's thoroughly researched, compellingly written, and beautifully illustrated biography gives [Blondell] the recognition she deserves. We won't see her likes again, alas." —Bay Area Reporter
Joan Blondell: Working Girl by Dan Callahan

"Fleshy, often blowsy and intrinsically good-humored, Joan Blondell was a Warner Brothers' dame of all trades, . . . (read more)

Order at University Press of Mississippi, Amazon and Barnes and Noble

Read Alternative Film Guide's Q&A with Biographer Matthew Kennedy
Read The Evening Class Interview on Joan Blondell

Read Joan Blondell's Pacific Film Archive Retrospective Introduction by Matthew Kennedy

Listen to The Leonard Lopate Show, WNYC-NPR interview, December 20, 2007