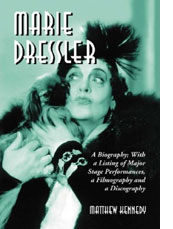 Marie Dressler: A Biography
McFarland, 1999, paperback 2006
In the early 1930s, Marie Dressler (1868-1934) was the most loved movie star in the world. Under the careful guidance of Louis B. Mayer and Irving Thalberg at MGM, she soared to late life stardom with a string of hits including Anna Christie, Tugboat Annie, Dinner at Eight, and Min and Bill, which won her the Best Actress Academy Award. But she was then past 60, large and ungainly, and had the self-described face of a "mud fence." How did she become the darling of the movie world? Her earthy warmth, well-practiced humor, and fantastic charisma were sweet medicine for audiences devastated by the Depression. This book explores in striking detail the full span of her life, taking in her lesser known earlier career, her ever-changing professional fortunes, failed marriage, and romantic attachments to men and women. From her modest birth in Cobourg, Ontario, she became a Gilded Age pioneer of vaudeville and musical revue, appearing with fabled names such as Lillian Russell, Weber & Fields, Eddie Foy, and Anna Held, later starring with Charlie Chaplin in Tillie's Punctured Romance (1914), widely considered the first ever feature length film comedy. She fought for women's suffrage, co-founded Broadway's first actors' union, and toured the country selling bonds during World War I. Marie Dressler: A Biography is the product of international archival research and interviews with her last surviving co-stars, friends, and care givers. It brings to life a fascinating woman of her time, and one of the greatest entertainers the stage and screen have ever seen.

Praise for Marie Dressler: A Biography
"Queen Marie Dressler gets the royal treatment from the meticulous research and dedication to his subject that biographer Matthew Kennedy presents . . . . Kennedy's emphasis is on the rich and phenomenal career of this grand dame of comedy and tragedy via interviews from surviving friends, co-stars and colleagues." —Silents Majority On-Line Journal

"Written with flair and impressively researched, it eloquently conveys the mixture of laughter and tears which marked the comedienne's art and life . . . . It's a remarkable story, and Mr. Kennedy describes all of its facets in elegant, eloquent prose . . . . This is one of the finest McFarland books of recent years." —Past Times

"Bullseye! . . . this book finally does this fabulous star justice with comprehensive research on her now-obscured early life; loving, intelligent coverage of all her extant films; savvy, well-written documentation of her stage career; and endlessly perceptive reconstruction of what Dressler was like as a human being. Catching Dressler in a rare showing of her films Emma and Tugboat Annie in San Francisco some years back and espying a notice that his biography was being written, I spent years anticipating it, and was never disappointed in the slightest. Truly a bravura performance—Dressler lives again." —John McWhorter, author of The Power of Babel: A Natural History of Language

"A must for any film buff's shelf." —David Perry, KALW Radio, 91.7 FM San Francisco

"With loads of pictures, programs and such on view this new book is quite a treasure." —Rapport

The Fall and Rise of Marie Dressler by Dan Callahan

"As the talkies and the Depression hit Hollywood practically simultaneously, an old vaudeville trouper named Marie Dressler found the greatest triumph of her spotty career. (read more)

Order at McFarland, Amazon and Barnes & Noble
Read Alternative Film Guide's Q&A with Biographer Matthew Kennedy
Read The Evening Class Interview - Film Highlights of Marie Dressler